It's got violence, sex - and it's not fattening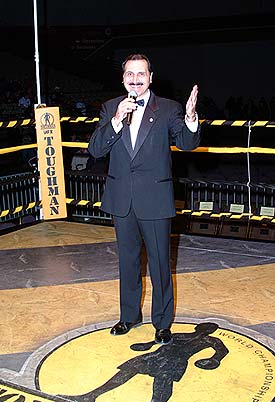 The Toughman Contest was created by a former boxer, then promoter- Art Dore, in Bay City, Michigan in 1979. Dore tells the story how he got fed up with listening to the armchair athletics talk about how "they coulda beat that guy". One week- end he and longtime friend Dean Oswald rented a local arena and opened it up to guys who wanted to prove how tough they were. The fans got to see what they really wanted: the hometown boys, real amateurs, the seasoned street fighters, with little or no boxing skill, but lots of guts. Those first Toughmen were punching it out in the ring in front of their friends and family, for a little fame and fortune. The first Toughman Contest was born. It was billed a clean, down-to-earth, back to basics fighting. No professionals, and no ringers, just tough guys that would get knocked down, and keep coming back for more until there would be only one left... the "Toughest Man in Town." The fans stood in line for over an hour in snow and two degree temperatures to get their tickets. The event sold out both nights, with standing room only within half an hour from the time the doors opened. The same was true at the second contest in Marquette, Michigan held only a short time later.
The event continued to grow and spread through Michigan, then Ohio and next to West Virginia, where Dore teamed up with Clarksburg promoter Jerry Thomas, who had been promoting pro and amateur boxing events. During the next two years, the local events spread into over 100 cities throughout the United States, with an annual World Championship event, that has been broadcast live on Showtime and on Pay-Preview. The format was refined into the very entertaining production that fans now enjoy. Thomas' company West Virginia Sports Promotions Inc., owns the exclusive rights to promote the Toughman Contest in West Virginia. This year eight events are scheduled in West Virginia.
West Virginia Sports Promotions Inc. also promotes professional boxing, Mixed Martial Arts and Kick Boxing events. Thomas' company also co-sponsors a gym, called the Tommy Thomas Boxing Club, that is located on Duff Ave in Clarksburg, where all Toughman, Toughwoman, Amateur Boxers, MMA fighters and Professional fighters can train free of charge.